We are an organizational design firm that aims the creation of high-quality urban environment through designing exterior spaces. Our firm aims to be a group of designers that are relied on by the clients and can contribute to society, from our long years of experience working closely together with the construction field, cultivated environmental engineering with our commitment to biodiversity and low carbon society, and the acquired knowledge from feedback we receive from management.
An exterior space should not be evaluated at the time of completion, but years after. This is because as time passes, the materials used change over the years. The plants, water and soil change, and the true value depend on how people use the space. We pursue the creation of a captivating framework that can withstand the era, and also the realization of beautiful detail thought out through capturing the time itself.
With exterior designing being our core discipline, we also actively engage in upstream project phases such as scenic planning, master planning and urban design. On the one hand, we also focus on the designs of the maintenance phases, the downstream of projects, such as greenery development, maintenance and renewal after the completion. Currently, techniques and technologies that correspond to the stock-type society is the most important issue in the construction industry of our country. We believe that the field of landscape architecture that has also been designing "time", must lead and precede among this industry.
The quality of the design in the creative field is said to owe much to the individual creator. At Landscape Design Inc. we foster a culture where each employee can demonstrate their creativity, as well as continuously accumulate advanced techniques and technologies through extensive experience, and wisdom from our supporting organization. As an ensemble of landscape architects, we will strive to improve the quality of the design for each project, and continue pursuing to become the top leading brand in the world.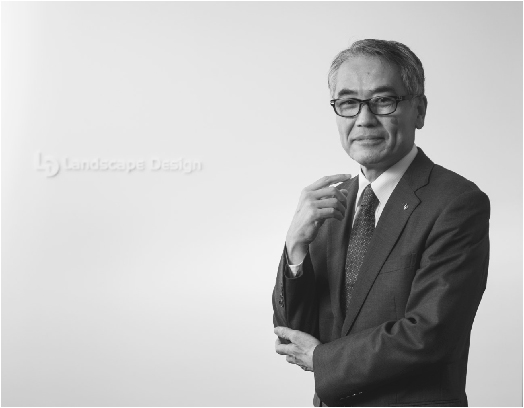 President and Representative Director